I was honored to be invited to share my perspectives on a "channel panel" ("The Agency Edge: The New Skill Sets & Services That Distinguish Channel-Fluent Marketing Agencies") at #B2BMX in Scottsdale last week along with amazing professionals like Jennifer Anaya, Marie Rourke, and Angela Leavitt and moderated by Forrester analyst and Canadian (not to be confused with "comedian") Jay McBain.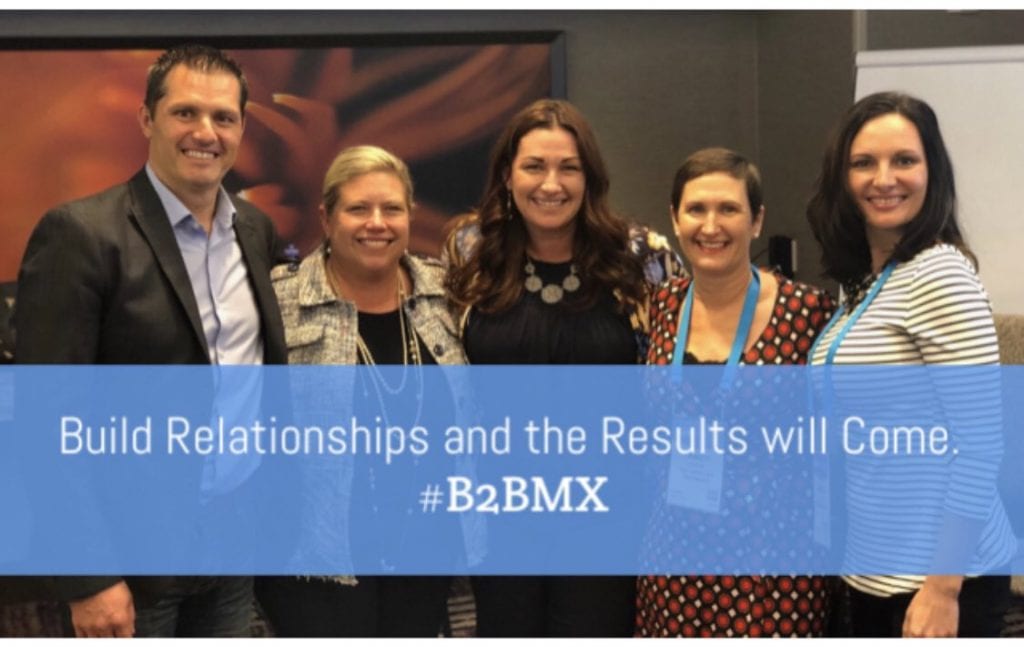 If you know any of us, you are keenly aware that we could talk for hours. We had 30 minutes. And went past our allotted time. So I promised to share my answers more fully. Here goes–along with "meta-notes" to some of the questions:
(1) Introduce yourself

I delivered a shorter version of what I had wanted to say:
I'm Tracy Diziere, President and CEO of TDZ Creative Partners. We believe "Nothing is created alone" and that the most productive channel marketers have creative partners — someone to help them bring the best ideas to life. Today, our clients are individuals—mid-level to director mostly— in organizations ranging from billion dollar startups to global Fortune 500 companies and their subsidiaries. Given our focus, the work we do is highly attuned to their individual needs, so our specialty is deep listening and helping them find their paths to being rockstars in their roles. While we create content, support PRM systems, develop sales enablement and partner onboarding materials—as their creative partner, our opportunities are truly limitless.

[META: I thought of saying, "And spoiler alert, all my responses are really about simplicity and people and seen through the lens of helpfulness and authenticity." Because really that's what helps build relationships.]
(2) Growth you're seeing
Q: Forrester is predicting a 25% CAGR for channel marketing tools and related services over the next 5 years (making it the fastest growing marketing category overall). Are you seeing this growth? What are customers asking for?

[META: I think my focus was very literal (about tools and the support of them) while my peers gave a broader view of channel program growth, with Marie referencing companies like Dell EMC having a re-emergence in channel.]
A: We see investments to support investments (such as PRM/Channel Enablement tools) and to close the staffing/knowledge gaps. Here are some common scenarios: (1) not having the bandwidth to learn and manage it as well as ensure it's set up in a meaningful way for partners with all the branding on-point, (2) concerned about keeping it fresh with content and packaging assets appropriately to support launches, and (3) needing more customized attention or aggressive SLAs.
Ultimately, our clients need trusted creative partners who are an extension of their teams, who will listen to them, understand them, complement them, and ultimately get IT done–whatever IT is. The requests are relationship-driven and really we have the flexibility to adapt to their needs when they don't know who else to turn to.

[META: In thinking about that last line, I imagine these lone channel marketers being frustrated as everyone they think might be able to help them has a narrow focus. So no one seems to be quite the right fit. We're proud generalists, knowing that we have a vast network to pull from if we need to bring in specialized expertise to meet a client need. I wanted to say: "There's not always a clearly defined solution–or provider. Partner with someone who will roll up their sleeves and help you find an answer that works for you and your brand, that considers the particulars of your environment. Don't procrastinate or shy away from doing (or having a conversation) just because you don't have it all figured out. "]
(3) Poor partner engagement
Q: While 50% of brands have invested in some type of TCMA – only 17% are satisfied. They are investing heavily in channel marketing tools and services, and yet the adoption / usage rate is less than 20% of their partner bases. What's causing the lack of engagement from the channel partner and what can companies do to fix it?

[META: That was the basic question and Jay added a twist for me, "How do you break through to someone who's stuck in product-mode, not thinking about their partners' brand?" I felt like I gave a politician's answer to this because his talk, "Through-Channel Marketing: How New Tools and Services Will Accelerate Partner Programs," was top of mind. And I think it worked out because in the end, I advocated for having conversations. That was the theme I had wanted to convey from the get-go, even if it wasn't clear from what I'd said in my intro.]

A: I'm thinking about your presentation earlier when you said, "Co-branding and co-selling is the hardest part." It doesn't have to be. It just takes dedication on all sides. Sometimes suppliers and partners/distributors need a liaison in that process.

[META: It's occurred to me now that I've said this that bridging gaps and showing up to facilitate mutual understanding has been something I've always done naturally. Early in my career at Arthur Andersen, a Partner invited to me to conduct an "Expectations Discussion" with the CEO of the non-profit CARE. I was in my 20s.]
To make it practical we've started helping supplier clients and their partners/distributors with their brand or buy pages.

[META: My planned response was, "Complexity. Keep it simple and focus on relationships vs. a one-size fits all." I think Jennifer and Marie had said this already so I didn't want to beat the dead horse or bore everyone.]
Our focus has been PRM and channel enablement which isn't "TRUE TCMA" (that wide band in the middle) if you're following the Forrester Channel Software Tech Stack slide Jay showed during his session.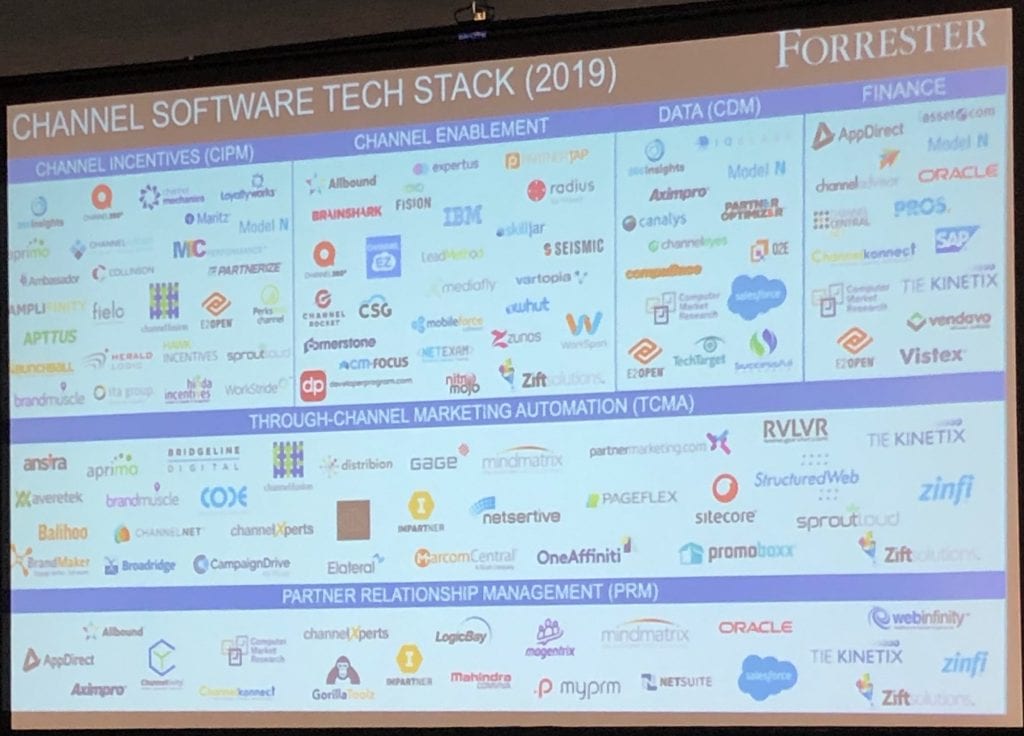 [META: I also wanted to ask but didn't: "Who here is representing a TCMA company? Because I'd love to talk to you and understand your world. Especially if you understand and embrace that clients may need freedom of choice vs. concierge when it comes to things like content."]
(4) Investments
Q: Where's the money in channel marketing being spent today and why?
A: I know it's a big word: Innovation. If I am an entrepreneurial [that's what I meant when I said "scrappy"] channel marketer trying to find new ways in a crowded noisy space to stand out, I might be willing to throw a little bit of money at trial and error, innovative things. That's what some of our clients are hungry for and what they turn to us for. They say, "Hey, I've got this idea, can you help me figure out if this is gonna work and/or how we can play around with this" . . . We work with PEOPLE in billion-dollar startups and global Fortune 500 companies and their subsidiaries. They are individuals . . . trying to make their dollars go farther and faster and some of that has to do with doing new things. And channel enablement and PRM systems because they've made an investment and there's a gap sometimes . . . That's where they are investing with us.
[META: Not at all what I planned to say. I had answered this in question 1 as I see what clients are asking for and what they are spending money on as the same thing. I didn't want to be repetitive and I wanted to convey our "genius zone" of getting creative and personal with our client solutions. I hope that came across.]
(5) Everything you know
Q: Break down everything you know into practical, action-oriented advice.
[META: This was tough ask . . . I think mostly because we really enjoy the custom solutions and the conversations to find the most relevant solutions. There's no way I could give implementable advice to everyone in the audience given their varied roles, companies, placement in the value stream, proximity to the customer, etc. I'd much rather have a one-on-one and am happy to connect with anyone to do so. Given the question, what my colleagues had covered already, and that we were going over time, I decided to be brief, blunt, and consistent with my message.]

A: Start having conversations. Almost to the extent of stop marketing and have conversations.

(6) Closing comments

Q: There are 105,180 digital agencies. 76% of them are doing technology services now. 75% of the world goes indirectly and channel is a misnomer but this is the last mile for most of the revenue that happens around the world. You don't control these people, you don't hire or fire them. They are off doing their own thing and there's just so many components that make it a challenge. Very few of those 105K do Channel marketing well and for a couple of reasons . . . Closing comments?

A: We had many optional questions for this panel so I'll just select one we didn't cover (since I've met so many first-timers to B2BMX and those who have been in their roles 2 years or less) . . . What career advice would you give? And I had the honor of speaking to a troop of Girl Scouts a few weeks ago and the advice is not much different:

[META: I was a bit more off the cuff and this is what I wanted to convey]

Don't worry about trying to figure it all out; no one has it all figured out and quit suffering by comparison or waiting to arrive at the pinnacle of knowledge. It doesn't exist and it's more important (and healthy) to enjoy the learning curve. Sometimes it's like your stomach is in your throat and sometimes you're on top of the world. It's the same ride. Breathe. Above all, take care of yourself. Stress causes dis-ease so just remind yourself, "It's just marketing." If you're feeling overwhelmed, reach out for help. Even if you're not, don't be ashamed to reach out for help.

[META: I also told the Girl Scouts, "Have a varied career–work in all types of organizations and sizes and industries. There's also no shame in taking a break–it will make you better equipped to innovate. If you want to try something else for a while do it. Your path isn't set in stone. I worked for behemoths like Arthur Andersen and startups, e-learning and training companies, I left marketing to be a poet and teach for awhile. Changing your mind and your direction is your right and allows you to be flexible and adaptive. Ultimately, allows you to innovate from a broad-based perspective. They say knowledge is power–really self-knowledge is the highest form of it because you can improve with that awareness, honing your strengths and aligning your life with your unique abilities and preferences. That's where success and satisfaction come from."]
Quick answers to questions we didn't cover . . .

Q: What's the biggest challenge you're seeing with through-channel marketing programs?

A: For context, our focus historically has been on developing the content to support these programs vs. heavy involvement in decision-making around go-to-market. In working with our clients who are making these decisions, what we've seen is a move to simplify tiers, structure, and how that gets communicated out. So with deductive reasoning, I would say complexity is the challenge. Our positive impact has really been on the content and sales enablement side and making that information accessible. We are always willing to be an "extra brain" and consult with channel program counterparts, especially in smaller organizations where maybe a handful of people are dedicated to all things channel.

Q: What's missing in today's channel marketing strategies?
[META: The drum I planned to beat was relationships and I was in good company on this panel . . . All roads lead to relationships for me, even with the most "practical" questions!]
A: People remember how you make them feel so emotional intelligence as a strategy would be great!
Honestly, I can tell you what we see is authenticity and the human element–so caught up in tools we're forgetting people are at the heart of this. And innovation.
Q: What's one thing marketers could and should stop doing today?

[META: As a recovering perfectionist and believer in "Nothing is created alone," this is the only way I know to answer.]

A: Stop trying to do it all themselves, perfectly. Stop having any shame around asking for help. Stop feeling like they have to have it all figured out by themselves.