The Sun Devil 100: Discomfort, Definitions of Success, and Paving the Way for Others
One of my long-standing issues with "business success" is that too often the definition of it is "someone else's." And the concept that the road to success has to look a certain way, that it comes only from "hard work." These commonly accepted, narrow, and sometimes tightly held notions–plus a healthy dose of rebelliousness– have kept me from participating in recognitions of success, until now with the Sun Devil 100 Class of 2023.
In October 2022, my friend and human-centered brand strategist CEO Emily Socorssy suggested that I apply for the Sun Devil 100, a yearly honor celebrating the innovative achievements of degreed Arizona State University (ASU) alumni who own or lead businesses across the globe. Looking into it, I knew that the agency I lead, TDZ Creative Partners, met the revenue requirement (the definitive "success marker"). Yet I felt torn about what it might mean . . . both to apply and to be recognized. And it got me thinking about how I define success, my unpopular opinions, and my reservations about this type of publicity. Actually, any publicity.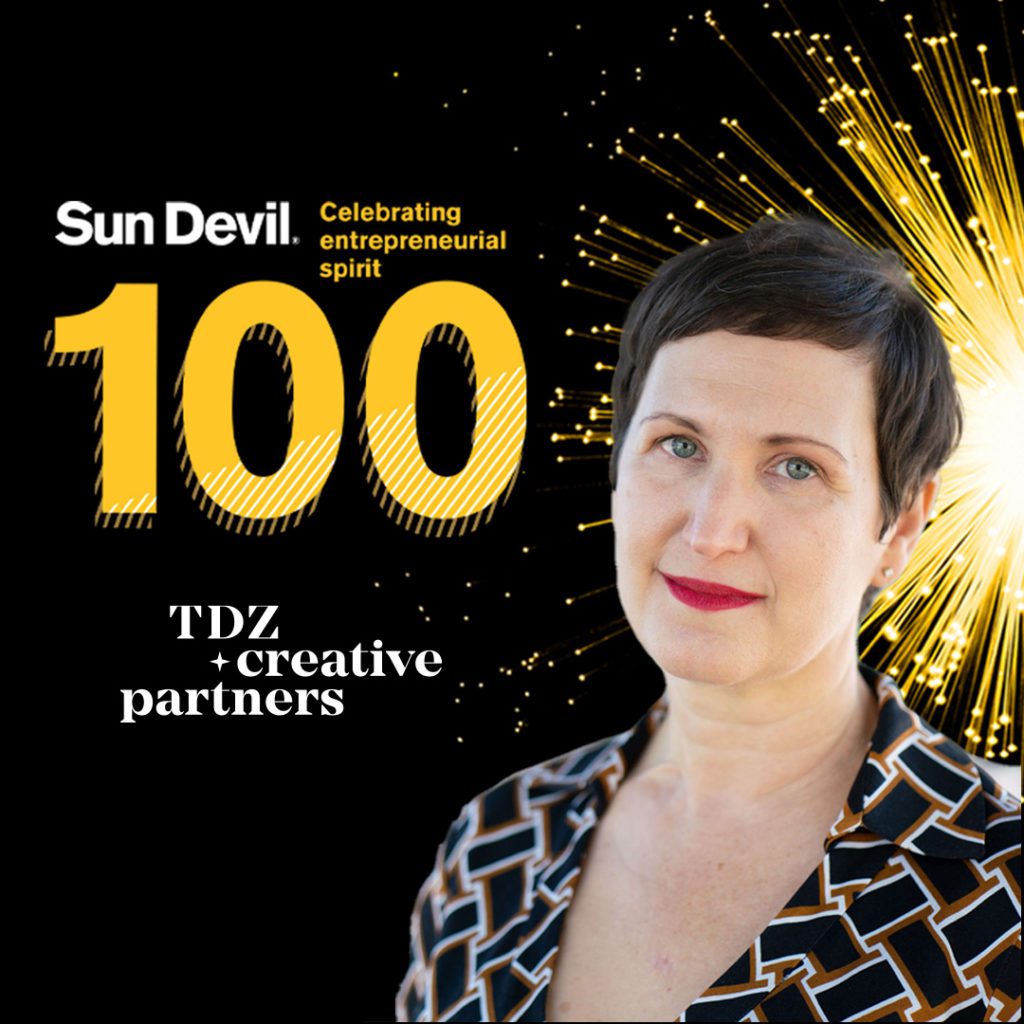 You see, I struggle with being seen, which seems unusual to many people given that I'm in marketing. Chalk it up to being an introvert, my own version of trauma, my desire to transcend ego, my limiting beliefs, or any number of things. I have a love-hate relationship with visibility. I know I can't be alone here. And yet, it is important to be seen–and heard–and I often champion that for others, especially our clients who are often "unsung heroes/heroines" of their channel departments and organizations at large. So, I realized (and am continuing to realize) that I have to do this "work" of personal growth, to walk this walk, and to practice being uncomfortable. That became one key driver for submitting the Sun Devil 100 application.
Another big realization that made me overcome my hesitation was the sense that there are others out there who, for whatever reason, have been pointedly questioned, discounted, underestimated, underrated, dismissed, and (at worst) shamed into thinking they do not deserve success or the accolades that come with it. I saw an opportunity to have a different conversation about what is possible, and what success can look like when a non-traditional business education, collaboration, and feminine energy are at the center. And so I'm pleased to say that I have been named to the Sun Devil 100 Class of 2023. I hope to pave the way for others and inspire with my story.
Here's more about my why and my Sun Devil 100 journey.
Pursuing a liberal arts education as an undergrad at the University of Alabama was a decision that was questioned, for sure, and it wasn't uncommon to hear, "What are you going to do with that degree?" And then there's the tired trope of the starving artist and skepticism of having a Master of Fine Arts in Creative Writing (Poetry)–the degree I earned at ASU. I'm pleased to be the only MFA recipient out of the Sun Devil 100 Class of 2023 and I hope this provides hope for any students getting these questions. My proposed answer: "Whatever I want! Anything is possible."
After undergrad, I wanted to go on to get my MFA but a "frenemy-professor" encouraged me to go get more "life experience" first. (She was right, by the way.) So I moved to the big city (Atlanta) with a friend and tried to get a job at an agency. My dream was to be a copywriter. Without the right degrees and connections–and in retrospect probably lacking the temperament too–I couldn't break into advertising. However, I soaked up all I could learn from all of my friends who lived that "glamorous" life (although they often started as receptionists and the like).
Contrary to their freewheeling, casual offices, I suited up to join Arthur Andersen in the Proofreading and Binding Department, which was part of the Practice Management/Practice Services division. I most enjoyed working with and learning from the marketers and consultants who were my "internal clients," whether directly or indirectly, and eventually I got brought on to our local Atlanta Marketing department. I learned everything I could there, not just about marketing, PR, and consulting, but also strategy, culture, facilitation, and continuous improvement–thanks to amazing mentors, a seasoned team, and kind coworkers. After I felt I had enough of a foundation in corporate America (and tired of dressing up), I left to pursue my dream of getting my Master of Fine Arts in Poetry at ASU in Tempe.
Grad school allowed me a full pendulum swing from the buttoned-up corporate world and widened my knowledge base as well as my work experience. My first job in Arizona was a part-time PR gig for an environmental technology company. Then, I taught undergrad English courses, including Writing for Business, and worked in the Graduate College (GC) to assist students in preparing their theses and dissertations. Neither teaching nor higher education in general ended up being for me, although I made significant impacts at the GC using my marketing and culture development/continuous improvement background. Needless to say, I had a blast as a full-time poet. It was time (as Ke$ha says) "to let the crazy out." But after graduation and playing small in the GC job, it was time for serious adulting. I had student loans to pay off, after all.
I moved to Phoenix and worked in marketing again–in technology companies–and often missed being able to have a bigger impact due to glass ceilings, red tape, etc. I was a 30-something, female "intrapreneur" and couldn't always get traction for my ideas, even though in some cases I was the senior-most marketing person, experience-wise. Women in technology know what I'm talking about without having to go into all the ugly stuff; we all have our horror stories. In 2007, I started my own marketing side hustle–working nights, weekends, and lunch breaks–for the sheer satisfaction of direct accomplishment and being in control.
In 2008, after the tech startup I was working for had layoffs, I turned my side hustle, Tracy Diziere & Associates LLC, into my full-time business. I had varying levels of "traditional success," with one year having a $100K client (that came with some tough lessons about gender bias, consulting, and collaboration), and many years of success from the standpoint of freedom and passion pursuits. Then I was recruited back to work for a small ed tech company that ended up being a draining, soul-crushing experience. If you have ever worked within a culture that did not fit with your values or "leaders" that did not embody basic leadership tenets and were collectively dysfunctional as a team, then you know how much of a toll that can take on your well being. It was an emotional downward spiral, and the burnout I experienced there led to a cancer diagnosis and the final resolve to make my business my only work after I recovered. This ultimately led to my drive to help prevent my clients from burning out, which we coined as #endchannelburnout.
"After cancer" (or AC) meant looking at life through the lens of playfulness and following my joy, which was starting a networking group (Authentic Women's Exchange), trying to make restaurant-quality food at home, and practicing public speaking. I got supremely lucky when, in 2014, I was tapped to do white-label marketing (including copywriting and account/project management) for a technology-focused agency. My dream of working for an agency had finally come true! I worked with clients at Dell, Avnet, and MicroAge and produced all types of content, in some cases using MDF for VMware and HPE. I also helped a startup MSP to launch its website. Realizing I did not have all the skills and capabilities to do everything that agency (and by extension, its' clients) needed, I brought in my friend and amazing servant-leader Jacqueline Luk Paredes to work in her (many) genius zones. By 2015, the agency had spun off into a software play and moved on to the SaaS space full-time, so select clients transitioned directly to Tracy Diziere & Associates. And Jacqueline was instrumental in growing our initial team of talented indies with her network. How's that for kismet and instant pop-up growth–inside and out? You can't plan for this.
The winding path, from one of the world's largest multinational corporations, to a creative degree in the liberal arts, back to marketing jobs (for big and small companies), to moonlighting, then one last horrific job and a cancer diagnosis, a lucky break, and ultimately leading my own company full-time, helped me create my own definition of success–based on whether I am doing what I love (or not) and allowing others to do the same, using the power of collaboration while ensuring self-care is the #1 priority–for all.
My mission is to help others see that "Nothing is created alone," that collaboration and delegation–based on being attuned to our "genius zones" and our needs–are cornerstones to success, productivity, and profit. It's imperative to align our work and our lives with those things and to trust that our path has value even if it's different—and especially because it's different—from those around us. We don't need to be defined by a degree, and success isn't always a linear path; it wasn't for me. And for many of TDZ Creative Partners' clients in channel marketing, the same is true. They don't teach this stuff in school, after all.
Given the environment today, many talented folks in IT and channel are at a crossroads after a layoff (as I was) or simply thinking it's time to make the leap into entrepreneurship–all-in. I'm happy to talk to anyone considering that to lend support and expand on any lessons learned. Overall, my message to everyone–from intrapreneurs at channel-focused companies to newly established freelancers and consultants–is simple: Trust that you have the ability to make your definition of success happen and surround yourself with people who have complementary skills and abilities and let them help you. When you do, anything is possible.